Advertise with us
Accommodation website listing - $70
Target those looking to travel with their pets by listing your dog friendly accommodation in Victoria on the Dogs On Holidays website.
All your contact details are on display, allowing prospective guests to enquire or book directly with you. You can also include an availability calendar and a link to your website if you have one.
Please note that Dogs On Holidays is an advertising and promotional platform for dog-friendly holiday properties. We are not a property management service. So if you are looking for someone to greet guests and clean your property, then you will need to engage the services of a property manager.
To advertise your dog-friendly holiday property, go to the Travel Victoria accommodation advertising page and submit the details of your accommodation. Your advertisement will then be designed and published on both the Travel Victoria and Dogs On Holidays websites. If your accommodation is located less than 500 metres walk from the beach, you will also receive a listing on the Beach Stays website.
Annual listing fees are $70, with no more to pay. Add in extra properties for half price.
The Dogs On Holidays website features over 280 dog friendly accommodation properties in Victoria and receives up to 1,000 visitors each day who are looking for dog-friendly experiences.
If you currently have a listing with Dogs On Holidays, information about managing that listing can be found on the Travel Victoria existing advertiser support page.
---
Other website listing - FREE
Free listings are available on the Dogs On Holidays website for dog friendly restaurants, cafes, wineries, tours, boarding kennels, dog related activities and events.
All listings must have a website or Facebook page which we can link to, so people can find out more information.
Submit your listing below. If you need to update an existing listing, email info

dogsonholidays.com.au with the changes.
Facebook promotion - $70
Dogs On Holidays has over 32,000 followers on Facebook. See our Facebook page - www.facebook.com/DogsOnHolidays
Most of our followers are dog owners or dog lovers, with many of them having an interest in travel as well as enjoying activities and experiences with their dogs.
Any business which offers services, products, experiences or holds events for dog owners can be promoted with a Facebook post on our page.
A Facebook post can include up to 5 images, a short description and link to your website which people can follow for more information.
A Dogs On Holidays Facebook post typically reaches between a quarter and half of our followers. Around 5 to 10 percent of people who see a Dogs On Holidays Facebook post interact with it - i.e. they click on the post, read its contents, view its photos or follow the web link included in the post.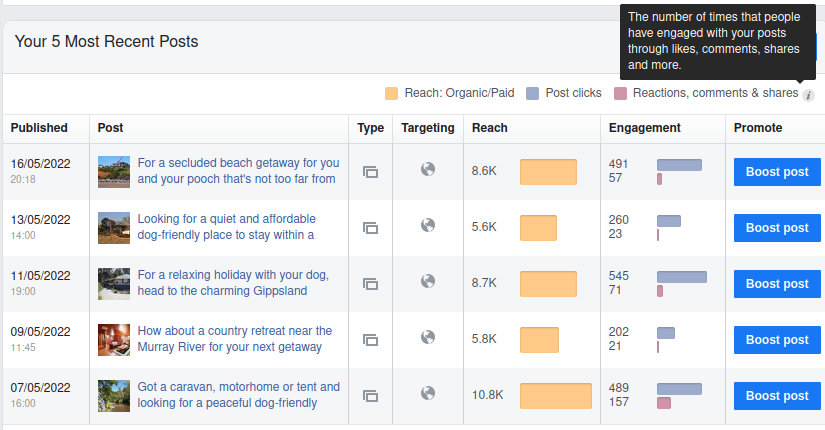 In order to maximise the exposure of your Facebook post, a $20 boost ($10 over two days) is applied to your post and paid by us to Facebook.
Submit your request for a Facebook promotion and we will be in touch to finalise the details, including the photos to use the in the post.