Abelia Cottage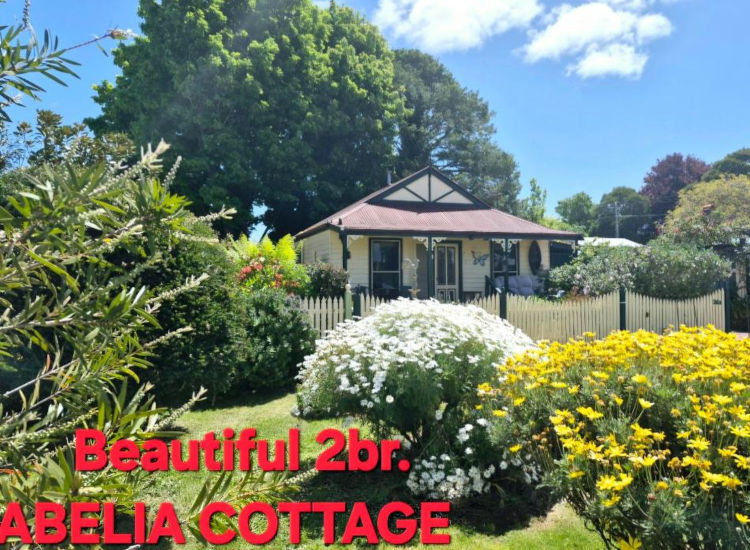 Abelia Cottage offers affordable accommodation where you feel special.
This cottage is replica of an old miner's cottage, surrounded by huge maple trees. It has 2 spacious bedrooms and can sleep up to 7 people. It includes a comfortable air-conditioned living area, well-equipped kitchen and a beautiful front verandah with garden outlook.
Free unlimited wireless internet and free Foxtel available.
Abelia Cottage is located in a very quiet area, just one block from the Wombat Hill Botanical Gardens and 10 minutes walk from the town centre of Daylesford.
Discover the many attractions Daylesford has to offer including cafes, old book shops, markets, a museum, Wombat Hill Botanical Gardens, Lake Daylesford and the Convent Gallery. Just up the road at Hepburn Springs is a chocolate factory, the Hepburn Springs Bath House and Lavandula Farm.
Dog information:
Property is fully fenced
Trained dogs welcome inside, but not on furniture or beds
Please bring your own dog bedding
No barking dogs permitted
One block away from Wombat Hill Botanical Gardens where dogs are permitted
We are fastidious about keeping the cottage clean for guests without pets
Pets stay free
Property features:
Entire property sleeps 7 people
BBQ facilities
Laundry facilities
Wi-Fi internet
Nightly rates from:
AVAILABILITY:
Available from 13th to 20th January 2022
Available from 24th January to 28th February 2022
Tuesday and Wednesday:
$195 per night
Thursday to Monday:
$275 per night
School holidays:
$275 per night
Rates are based on a couple. Extra guests $50 each per night.
Minimum stay is 5 nights.
We supply linen, towels and toiletries, full kitchen with big 500 litre fridge and condiments.